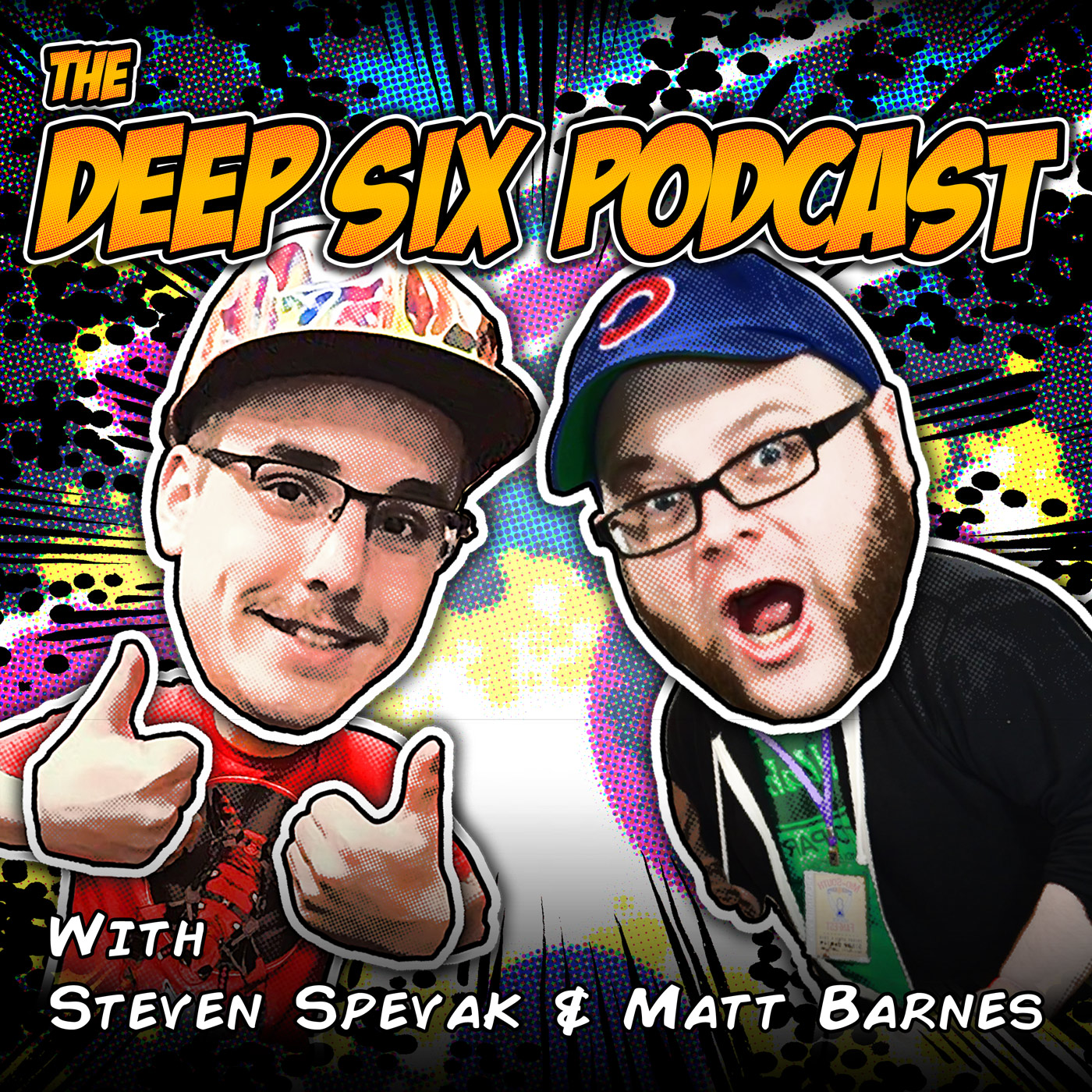 Holy cow, we're already at episode 60 of the Deep Six Podcast!? Feels like just last week we were at episode 59... Time just flies when you're ranting about nonsense, never the less, Steven and Matt are back for your listening enjoyment!
The quick hit for this week's show sees the guys discussing artist, Marisa Livingston's, reimagining of the cast of 'The Office' as cutesy, almost Disney-esque, cartoon characters. These illustrations are so fantastic that it makes us wish it was for more than just fun. *COUGH* Netflix original series *COUGH*
That gets followed up by comic news, where we learn that the famed, Meltdown Comics in Los Angles, will be closing its doors after 25 years, on March 30th. Marvel comes into the fold with news on an original comic story from The Weeknd, and 'Moon Girl and Devil Dinosaur' jumping into reality with their upcoming photographic covers. DC isn't left out this week as we learn of their plans for a 'Justice League' relaunch from Scott Snyder, the 'Teen Titans' find themselves with an all new lineup starting in June, and Frank Miller inks a five-project deal with DC as part of their unitive to drive bookstore sales.
This week's show also features an independent comic review of, 'Vengeance, Nevada' from writer B.J. Mendelson (Social Media is Bullshit, Privacy: And How to Get It Back), and artists Isidore Koliavras & Peter Czaplarski. Described as, "a wild, superhero-horror adventure set in the American West," you wont want to miss what Steven & Matt have to say about it!
Matt then switches it over to gaming news where he talks about the Nintendo Switch officially becoming the best selling console ever in the US over it's first year.  He also fills us in on the new name for the 'Ataribox,' and gives us some preorder details.  There is also news on the status of publisher, Ubisoft, following concerns of a takeover, co-op details for 'A Way Out', and 'Hellblade' coming to Xbox One. He also sprinkles in news on the possibility of Banjo being lent out by Microsoft for the upcoming 'Super Smash Bros.' release, a potential open world 'Star Wars' title in the works over at EA, and how the US Navy is controlling one of it's newest attack submarines using an Xbox 360 controller!
Entertainment news takes us on a journey as we have a new clip from 'Avengers: Infinity War,' featuring Thor & the Guardians of the Galaxy, that has made its way online after airing during Nickelodeon's Kid Choice Awards. The guys also give their take on the recent Chris Evans interview with the New York Times, where he suggest that he may be walking away from the shield of Captain America following 'Avengers 4.' There's also a bit of 'Deadpool' news to talk about as it was revealed this week that FX has pulled the plug on Donald Glover's animated Deadpool series, and we also have a brand new trailer for the 'Merc with a mouth's' second silver screen offering!
Want to keep up with the Deep Six Podcast?  Then subscribe to the show through iTunes, Google Play, Stitcher, Podbean, or anywhere podcasts are available!  Already subscribed? Why not leave us a rating, review, or both, through your favorite podcast provider to let everyone know how much you love the show!?
You can also connect with the Deep Six Podcast on Facebook, Twitter, and Instagram, by following @DeepSixPodcast!
Find full show notes for every episode, listen to past episodes, learn more about the hosts, and much more on our website, www.DeepSixPodcast.com!