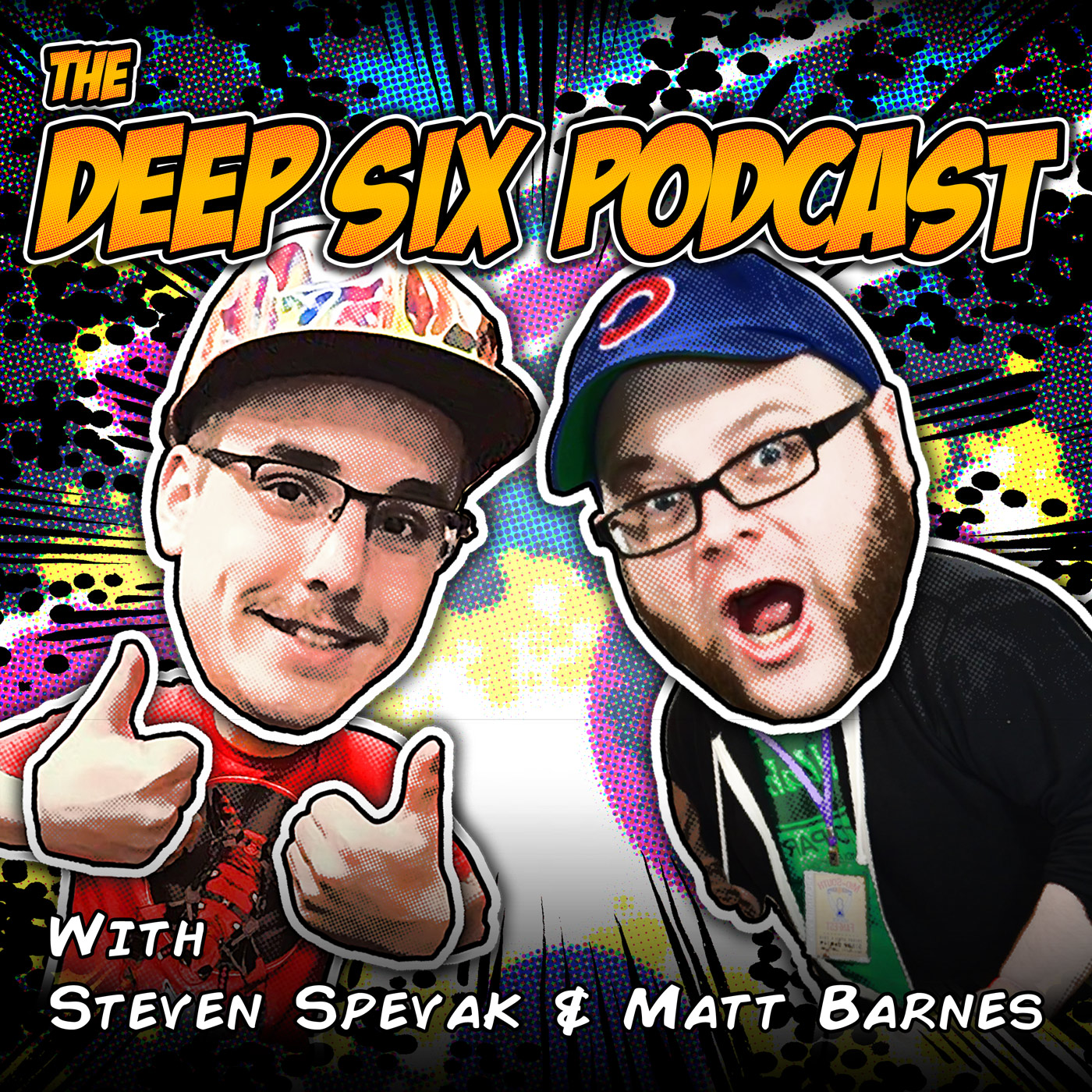 For the first time in about nine months, Matt and Steven are in the same room together for an all new episode of the Deep Six Podcast!
Our quick hits this week see the guys talking about the Governator, Arnold Schwarzenegger, recently undergoing open heart surgery.  There's also talk of the composer for 'Black Panther,' Ludwig Goransson, being brought in by Sony to score the upcoming 'Venom' film.
This punches us into comic news, where we learn from Steven that Sam Humphries will be taking over writing duties for 'Harley Quinn' over at DC.  We also get some small announcements from Marvel pertaining to two new series coming out this summer.  The first being, 'Death of the Inhumans,' from Donny Cates, and then the sequel to 'Infinity Countdown,' 'Infinity War,' from Gerry Duggan.  That's not all from Marvel though as editor-in-cheif, C.B. Cebulski, reveled that the 'Fantastic Four,' will be returning on a monthly basis, written by former 'Amazing Spider-Man' writer, Dan Slott, and featuring art from Sara Pichelli!
Then we jump into gaming news where Matt fills us in on the 12 finalists for this year's World Video Game Hall of Fame, and the reveal that 'No Man's Sky' will be coming to Xbox One sometime this year.  Following that is an absolute overload of news surrounding 'Sea of Thieves!'  From the game breaking the one-million player mark in just 48 hours, to it becoming the fastest selling new IP in history on Xbox One, along with some updates from the games first patch update.  On top of all that, we get the low down on the April offering from 'Games with Gold,' Playstation Plus, and the Nintendo Switch EShop, along with a dip into the WTF file as we learn that Lindsey Lohan's 'Grand Theft Auto 5' lawsuit has yet again been thrown out of court.
Closing out this week is entertainment news, starting with news that Fox has delayed both of their upcoming superhero features of 'X-Men: Dark Phoenix,' and 'The New Mutants.' Theres also the addition of Pedro Pascal to the 'Wonder Woman 2' cast, and that Colin Trevorrow has been confirmed to direct 'Jurassic World 3.'  Lastly, we dive into the recent press release from Marvel Studios pertaining the 'Captain Marvel,' and it starting production recently!  There's set photos to discuss, a story description, and some crazy casting news that sees the return of some interesting 'Guardians of the Galaxy' characters amongst others!
Want to keep up with the Deep Six Podcast?  Then subscribe to the show through iTunes, Google Play, Stitcher, Podbean, or anywhere podcasts are available!  Already subscribed? Why not leave us a rating, review, or both, through your favorite podcast provider to let everyone know how much you love the show!?
You can also connect with the Deep Six Podcast on Facebook, Twitter, and Instagram, by following @DeepSixPodcast!
Find full show notes for every episode, listen to past episodes, learn more about the hosts, and much more on our website, www.DeepSixPodcast.com!